Interview with Jupiter One
Jan 29th, 2009 | By
atlanticwavelive
| Category:
Interview
,
Magazine
The Atlantic Wave Radio interview with rising stars Jupiter One. To perepare for an interview use a speech writing service. You will get a well-edited information that can be used on the interview. It will make you sound confident.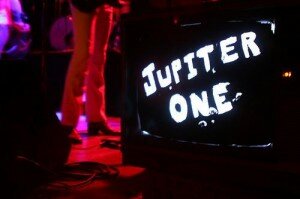 Who are you?
I'm zac then there's dave, k, and mocha
Where are you from?
Hey this is Zac. i'm from austin but i live in nyc
What is your background?
I was trying to get out of austin k was trying to get out of boston we found ourselves playing in a circus band for the sake of travel then we tried to get out of austin together so i could stay sane and so k could be with mocha found dave in new york or he found us thank god and a million other things happened and are happening and our manager ryan is still working hard with us
How does living there affect your songwriting?
Living in New York maybe polarizes most of our songwriting tendencies toward very hard/edgy/dancy and fantastical. There are definitely more extremes in the music than if we lived in a less extreme town.
How long have you been playing and what was your first instrument?
I got my first drums for my fourth birthday.
What's the greatest thing that's ever been said about your music?
David Amram, whose music my dad introduced me to as a kid, happened to walk into bowery poetry club a couple years ago and said that it was "as fresh as hearing the beatles the first time". pretty lavish praise. It was flattering. especially cause when i listen to tapes from then, I kinda think we've come a ways.
What's the song you're most proud of writing?
… well, lately i've been trying to write less obscure lyrics and make them more direct. i guess that's going alright. i should say i'm proud of k for coming up with some great stuff lately.
Have you seen any great live shows lately?
Yeah. all my friends bands are great. Square wave punch. the hot left. pvd. hari hanzu played an awesome set at death by audio recently. As for non-friends: fortunately i got to see sound team before they stopped touring or broke up or whatever. Apollo sunshine is really fun live. Me and dave saw the stills in prospect park a while back. and radiohead at the theater at MSG. that was great. I can't afford to see the bigger bands i wanna see. I missed daft punk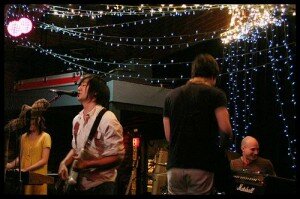 What's the most embarrassing thing that's ever happened to you on stage?
hmmm. i can't think of anything really embarrassing … dave likes it when i "give him love" so i try to walk over and play at him whenever i can. recently we were on a rare large stage and i strutted over to him and yanked my cable out of my effects since it wasn't long enough… then i had to meekly walk back over and plug it back in. also k hits me a lot with his guitar. also, k falls down a LOT.
What is your guilty pleasure band?
Men at work
Are you working on any music right now?
as we speak were mixing two new songs with the genius engineer nic hard. they're trippy. they'll go on the album as bonus tracks which, last i heard, is coming out june 10th.
Why do you want to record and release your own music?
It's the only thing we've ever done well.
Do you write your own songs?
We write our own music because that's the way it should be. ever since buddy holly and the beatles and the beach boys and the kinks.
Who are your musical influences?
Penderecki: st. luke passion – you can travel through heaven and hell if you listen in the dark with headphones.
Takemitsu: from me flows what you call time – you can travel to the ghost worlds if you listen in a dark hall in chicago.
Stevie Wonder: talking book – that's how you use synthesisers
herbie hancock: mwandishi-period stuff – that's how you use synthesisers
elo: discovery/time + of montreal (last 3 albums) – beautiful songwriting and ambitious arrangements
apes and androids: our new favorite- wild and whimsical, but great musicianship too.
air: such tastefulness and restraint
beatles and police – everything
How do you describe your music to people?
as an exciting band to go see, i guess
What are your immediate music career goals?
hopefully to keep touring then make another album. also, it's important that we get some publicity and press, which is a missing piece of the puzzle right now.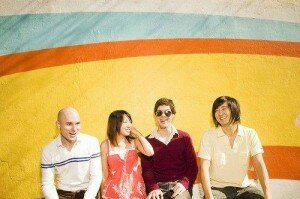 What are your long-term career goals or dreams?
stay alive! and stay inspired
What live performance experience have you had?
thousands and thousands in every situation. no way to even begin. coming up onto the stage on a mechanical riser while playing with this korean pop star in seoul was pretty weird though, and i guess memorable. also a biker rally in texas with a blues band where they were riding around all fat and nekkid doing it on the motorcycles
How do you rate your live performance ability?
we love both and we try to be perfectionists with both.
Have you released any albums?
right now our self-titled album is available through itunes or through our website jupiterone.com. it was produced by k + jupiter one and recorded at a few places, including bushwick studios (where we are now) in brooklyn. tone float in chinatown (now defunct), and squid hell in boston.
How do you sell your albums?
itunes and jupiterone.com or AT SHOWS!!!!!
Have you had any previous print or broadcast media exposure or reviews?
we have some placements in video games (madden 08, burnout paradise, nhl, and fifa) there's been some tv spots and film placements and there's a song in a mazda commercial in europe. – http://www.urlf.org/JUPITER/
peace,
zac

Jupiter One on iTunes US

Jupiter One on iTunes UK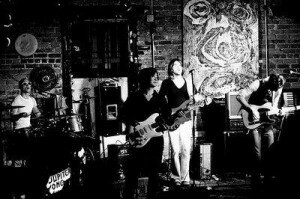 View the video for Countdown from Jupiter One:
This interview is copyright PodStarMedia.