AMPed New Music Weekly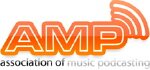 AMPed New Music Weekly from the Association of Music Podcasting is available on Atlantic Wave 1 now.
AMP is a group of music podcasters who want to promote music. We all produce our own podcasts, featuring great podsafe music, and contribute to AMPed , our weekly digest of the best tracks, presented by a different host each week.
Listen to the AMPed New Music Weekly show here on Atlantic Wave 1
Available at these times:
GMT/UTC: ( Wed 10:00, Wed 16:00, Wed 22:00, Thu 04:00)
Visit the Association of Music Podcasting website for more information and for links to their members podcasts at:
http://www.musicpodcasting.org
GET YOUR SHOW ON THE AIR:
Want to play your show or podcast here on Atlantic Wave and access thousand of new listeners?, Contact Us.