ARTIST PROFILE: Jennings
Jun 16th, 2009 | By
atlanticwavelive
| Category:
Artist Profiles
,
Magazine
With the soothing sound of piano accompanied by a strong voice and an electronica edge, Jennings creates a sound drawn from musicians like Imogen Heap, Annie Lennox, Tori Amos and Moby.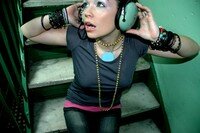 Although her writing began in high school, Jennings' surge in musical expression started after the sudden death of her mother. "This tragedy rocked me to the core, but there is so much beauty in what it allowed me to do," she says. "All of my emotions came pouring out in the form of melody." At the time, her father, a former musician, gave her the option to go through therapy or record an album. He knew both would be equally helpful to her, but by recording her music, she would be able to have something to hold on to and share with others for a lifetime. With "Femtastic" and now "Storybook EP" complete, Jennings has built on the lessons of her life and musical journey and courageously perfected the delicate balance between vulnerability, honesty and grit.
"I believe that the difference between an artist and the average person is a fearless and relentless willingness to expose their quarks, oddities, secrets, and passions for all of the world to see and hear." Jennings is certainly no exception to the rule. Her voice and words are her ways of expressing happiness, mourning, anxiety, anger, and excitement, allowing her listeners to laugh, cry, and live every one of her emotions. Although she is small in stature, Jennings' music reflects an enormous strength and drive that is uniquely hers.
TRACKS PLAYED ON ATLANTIC WAVE RADIO:
TRACK: Jennings – Falling Higher
WEBSITES:
http://www.jennings-music.com/
MYSPACE:
http://www.myspace.com/jenningsmusic
FACEBOOK:
http://www.facebook.com/home.php#/pages/Jennings/10155249934
PURCHASE LINKS:
CD Baby
VIDEOS:
TRACK: Jennings – Umbrella (Live)